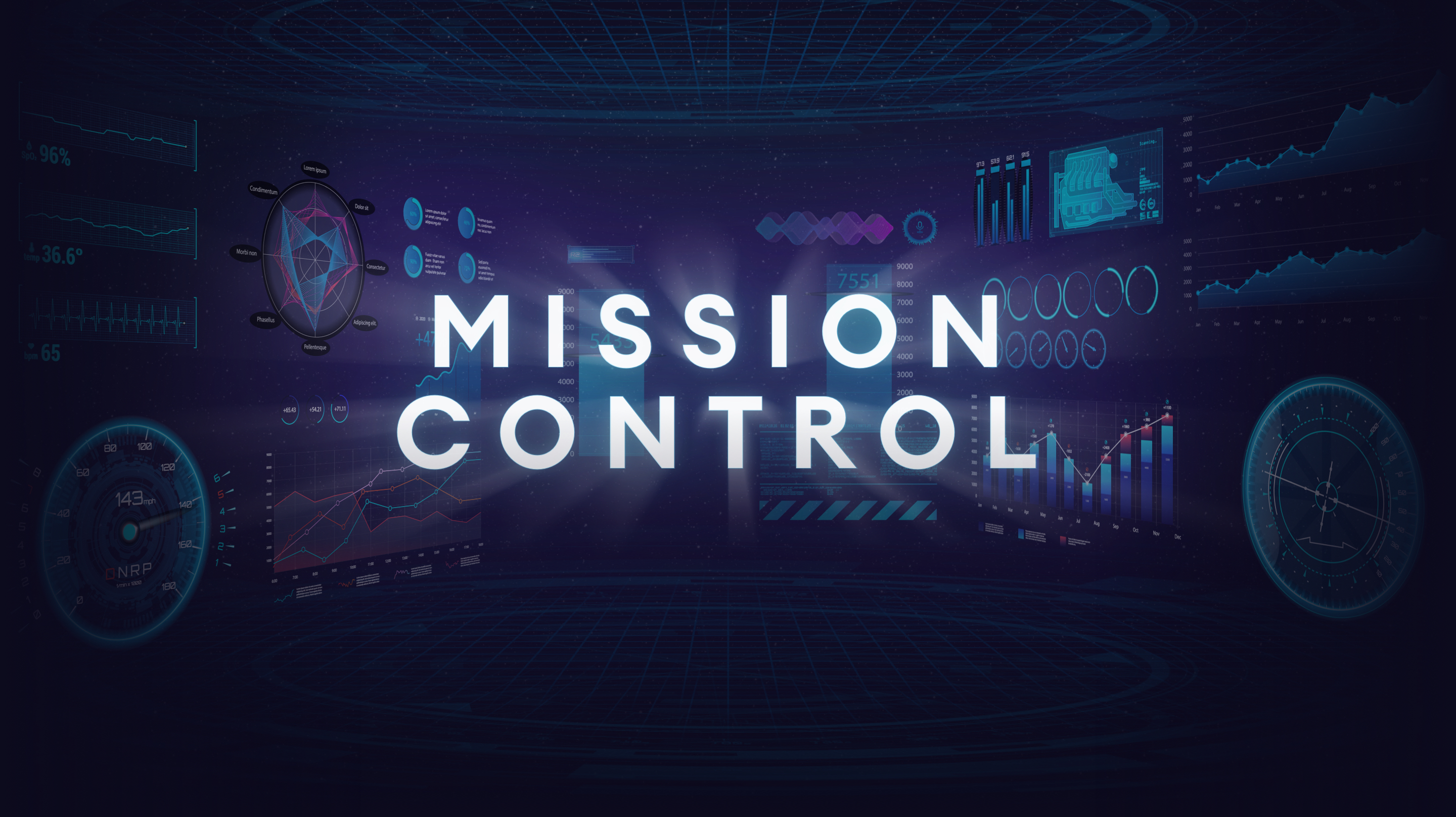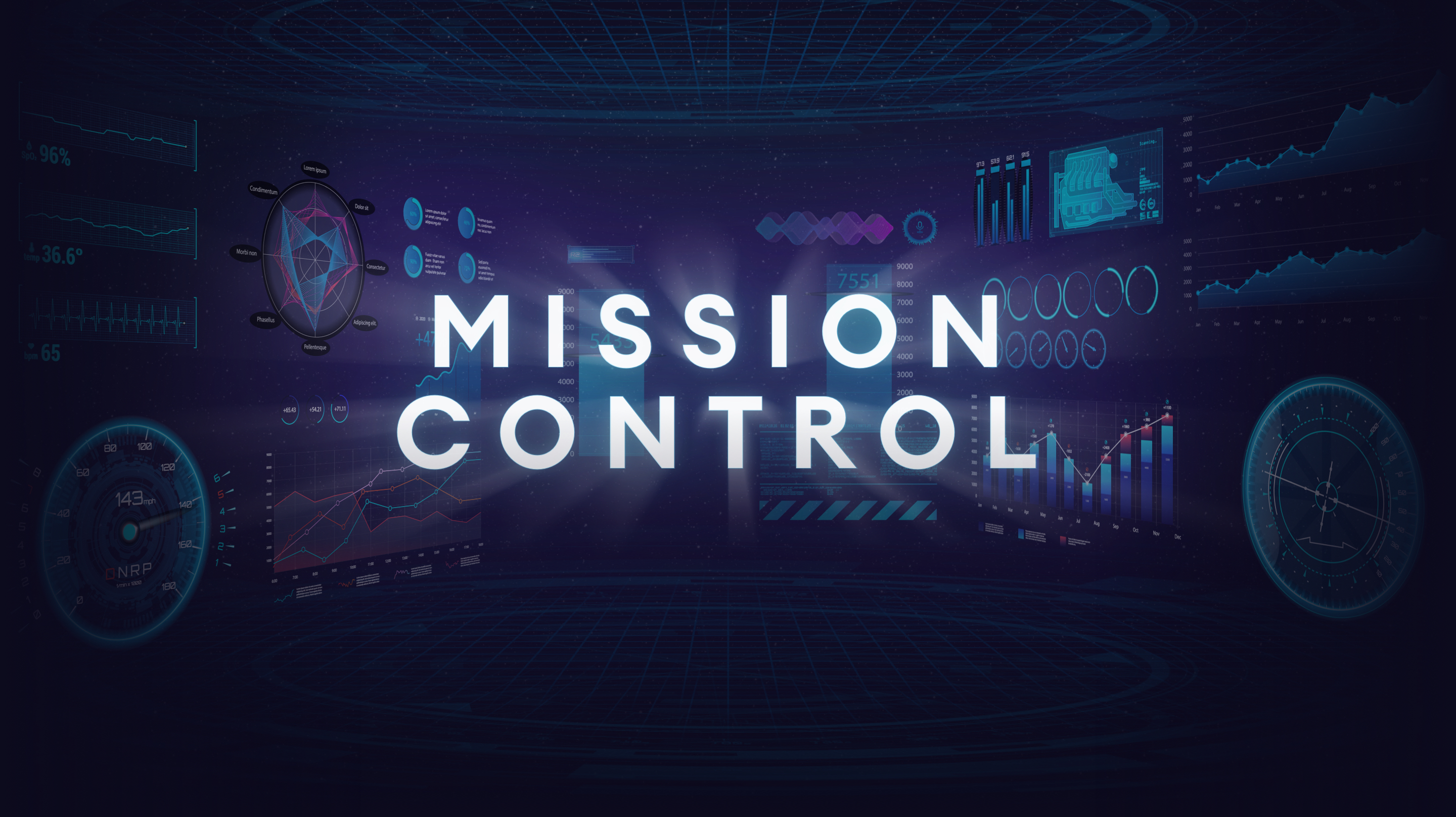 Over 200 Graph Nodes Deployed in The Graph's Testnet
We launched Mission Control, The Graph's incentivized testnet just over a month ago and we've already made so much progress towards mainnet launch! With more than 200 Indexers participating worldwide, The Graph is building one of the most decentralized networks in Web3.
Indexers are node operators that serve queries for subgraphs, which are open APIs used by developers to query on-chain data - like trades, balances, user identities, arts and collectibles and more. Once The Graph Network launches, our Indexers will be serving applications like Uniswap, Gnosis, and Synthetix. The Graph currently supports Ethereum, IPFS and POA Network (xDAI Chains).
200+ Graph Nodes in Phase 0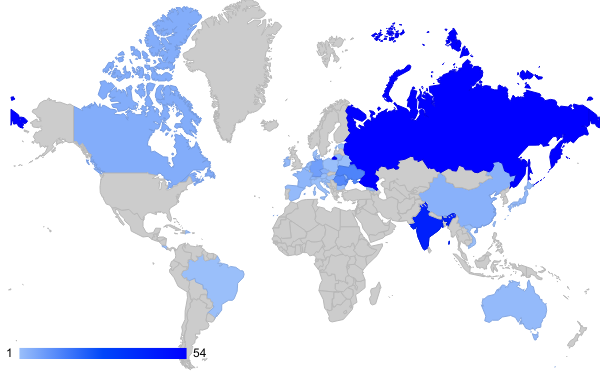 Anyone can run a Graph Node! While 210 Graph Nodes were deployed in Phase 0, over 500 Indexers registered for the testnet, indicating significant interest in supporting open data access on blockchains. There are currently Graph Nodes running globally in more than 40 countries, including Russia, India, US, Japan, Indonesia, Germany and more!
To complete Phase 0, Indexers needed to create and configure k8s cluster, create a Postgres database, deploy a Graph Node and Prometheus. Indexers then had to deploy Moloch, Uniswap and Synthetix subgraphs and serve 10 queries per second with less than 0.05% error rate for queries. The Graph team then tested all 200+ endpoints to be able to query the Graph Nodes, track network metrics and subgraph deployments.
"Super excited for The Graph and how the availability of a competitive marketplace for quality data will support engineers to build the web3 products we're all excited will change the world."
Phase 1: Basic Protocol Actions
Last week we kicked off Phase 1, which focuses on setting up the Indexer Agent and Service and testing basic protocol actions like staking. This is the Indexers' first exposure to the state channels system that will pay out query fees.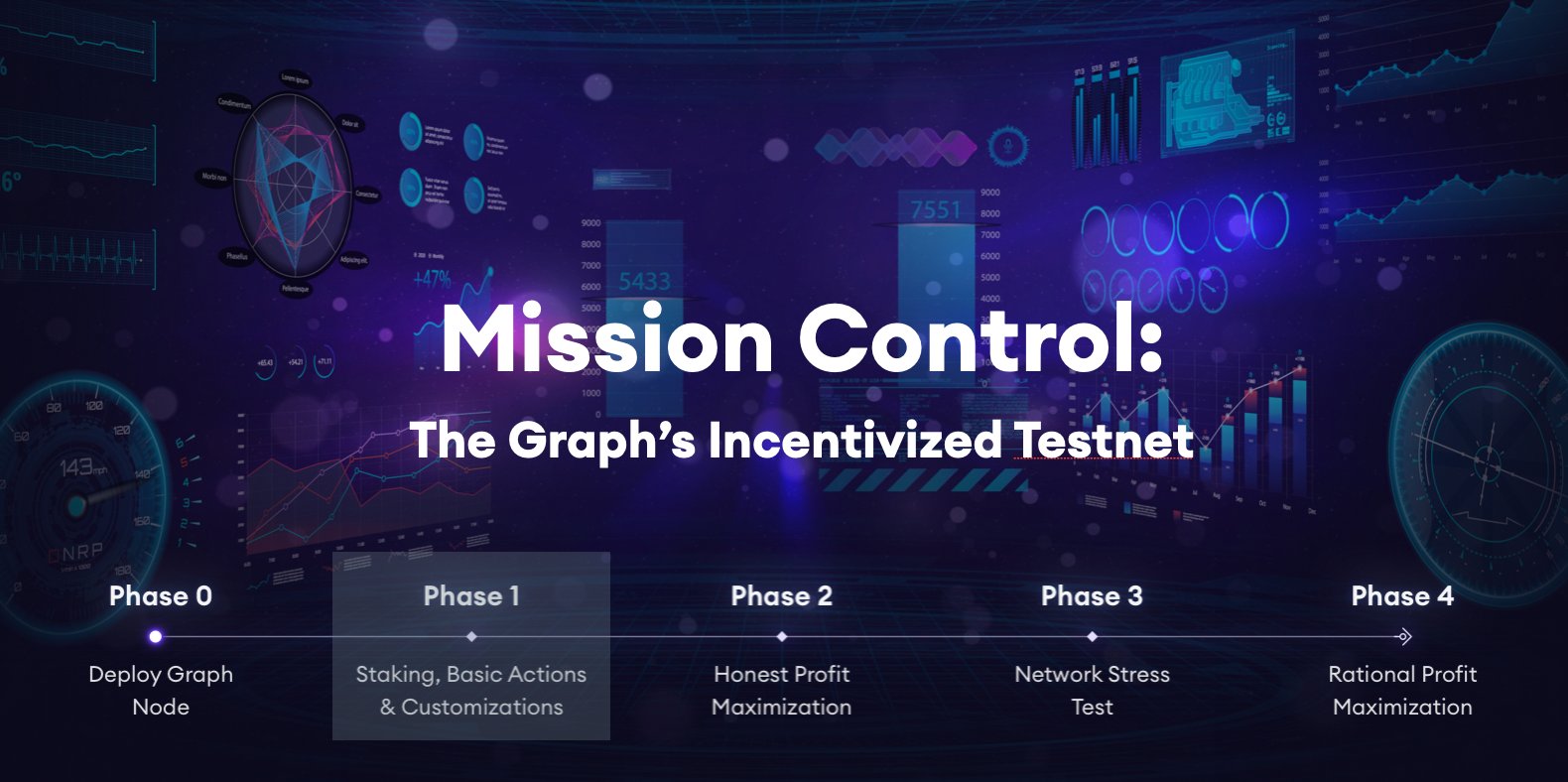 The Indexer Agent automatically chooses which subgraphs to index based on customizable rules, and manages deploying subgraphs to the indexer's Graph Node(s), allocating stake, claiming rewards, and setting real-time query prices on indexed subgraphs. The Indexer Agent monitors The Graph Network as well as the Indexer's own infrastructure to implement the strategy that has been defined by the Indexer.
The Indexer Service is the indexer's public API in the network. It exposes a public query endpoint, proxies part of the Graph Node's indexing status API, manages state channels for receiving query payments, and will, in the next phase, help to facilitate disputes that arise. We're excited for node operators to get their indexing infrastructure up and running in Phase 1 so they'll be ready for testing out Honest Profit Maximization strategies in Phase 2!
Mission Control Leaderboard
Testnet participants will be incentivized with Testnet Rewards based on technical performance and community contributions. Indexers are assessed on profit maximization and query performance as well as community building activities like helping other Indexers, being active in our social channels and creating content about The Graph! Check out the Mission Control Leaderboard to see current scores.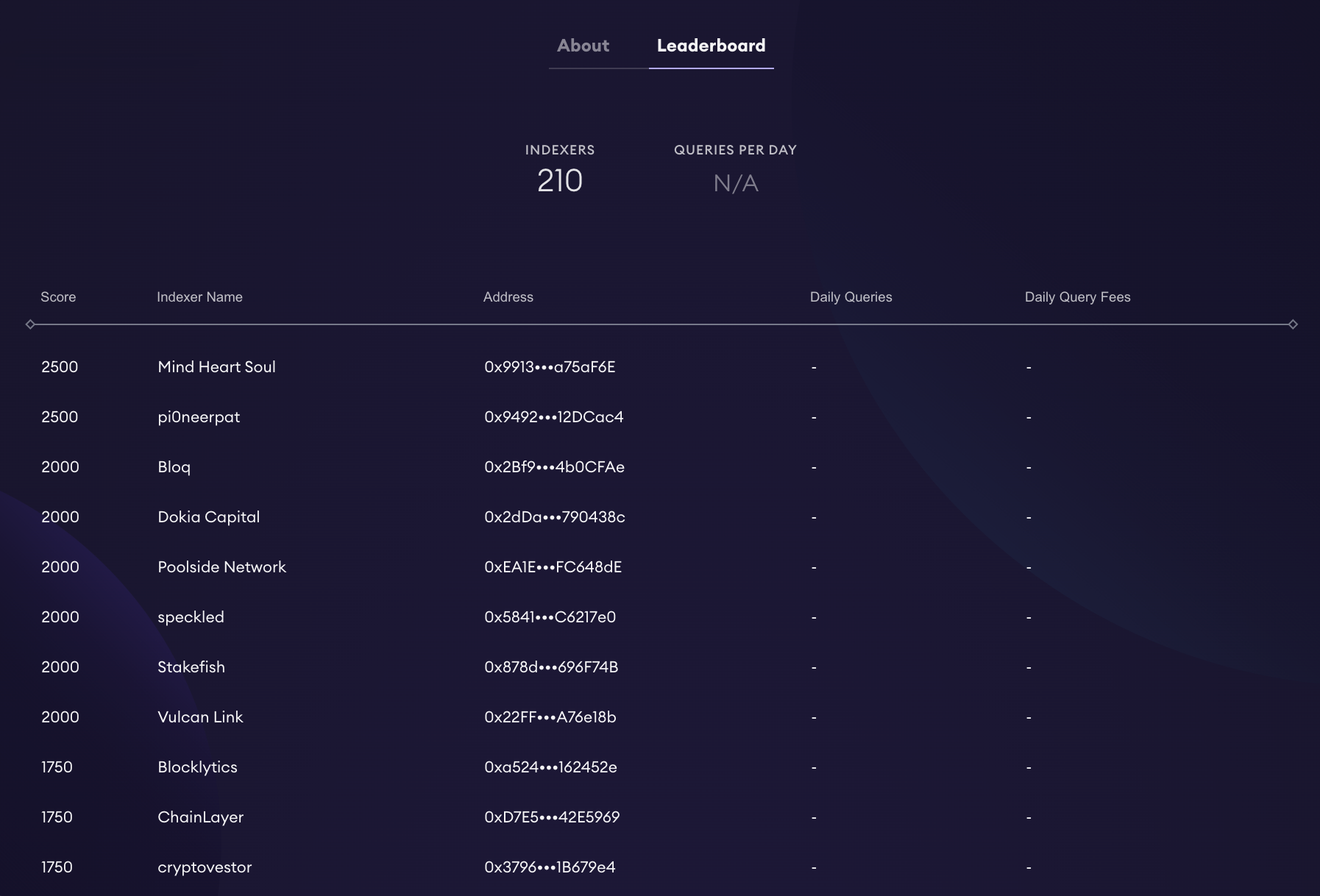 Our Indexers have been highly involved - helping each other with bugs, contributing to our repos, libraries and wiki, collaborating on OpenEthereum compatibility and even writing blog posts about the testnet! One Indexer even mentioned: "The Graph Community rapidly rallied around each other to help solve problems." We're humbled to have such an engaged community.
Not an Indexer? Get Involved in Other Ways!
If you didn't register as an Indexer in the testnet, there will be many other ways to contribute throughout testnet or mainnet launch, look out for:
Upcoming Ambassador's Program to grow The Graph community
Upcoming Bug Bounty Program to help find vulnerabilities and secure the protocol
Other Roles in the Graph Network coming soon
To keep our community flourishing, we'll be launching an Ambassador's Program shortly, that will allow our key contributors to be recognized for their support. A Bug Bounty Program will also be launching later in the testnet and will run through mainnet launch.
The Graph Network will also have Other Roles aside from Indexers, like Curators and Delegators. Curators are users that will signal which subgraphs are high quality by staking GRT on subgraphs, and they'll earn a portion of query fees. Indexers rely on Curators to know which subgraphs should be indexed and are most valuable to the community. Delegators are users that also want to support the protocol but do not want to run a node themselves, so they can delegate their stake to existing Indexers to earn a portion of query fees and indexing rewards.
Look out for more information on how you can participate in our upcoming programs by subscribing to the newsletter, joining our Discord and following us on Twitter. You can also check out our blog for updates.
About The Graph
The Graph is an indexing protocol for organizing and efficiently accessing data from blockchains and storage networks. The Graph currently supports indexing data from Ethereum, IPFS, and POA, with more networks coming soon. To date, over 2,000 subgraphs have been deployed for applications like Uniswap, Synthetix, Aragon, Gnosis, Balancer, Livepeer, DAOstack, AAVE, and Decentraland.
Join our community by introducing yourself in our Discord for technical discussions, join our Telegram chat, or follow us on Twitter! Our developers are always eager to chat with you, and The Graph ecosystem has a growing community of developers working to build the decentralized future.
Testnet website: https://thegraph.com/testnet
Blog: https://thegraph.com/blog/
Linkedin: https://www.linkedin.com/company/thegraph/
Everest: https://everest.link
Category

Author

Eva Beylin

Published

September 1, 2020

Eva Beylin