The New Era of The Graph: A Roadmap for Serving All The World's Data Needs
Prefer to hear this blog aloud? Listen to the contents of this blog via The Graph Podcast.
Step into the New Era of The Graph! The Graph's new roadmap introduces a bold and transformative vision of the future – where The Graph will address all data service needs, from queries and analytics to LLMs. The roadmap heralds a vibrant future designed to empower developers and expand The Graph ecosystem.
Since 2018, The Graph has been instrumental in supporting web3 and enabling developers to build applications with subgraphs. Launched three years ago, The Graph Network is performant, achieving over 99.9% query success rate and following through on its commitment to democratizing access to blockchain data. Across the hosted service and decentralized network, over 40 chains and more than 85,000 subgraphs are supported, cementing The Graph as an indispensable platform for tens of thousands of developers and applications. But the journey of innovation is not over yet!
Let's break down the new roadmap!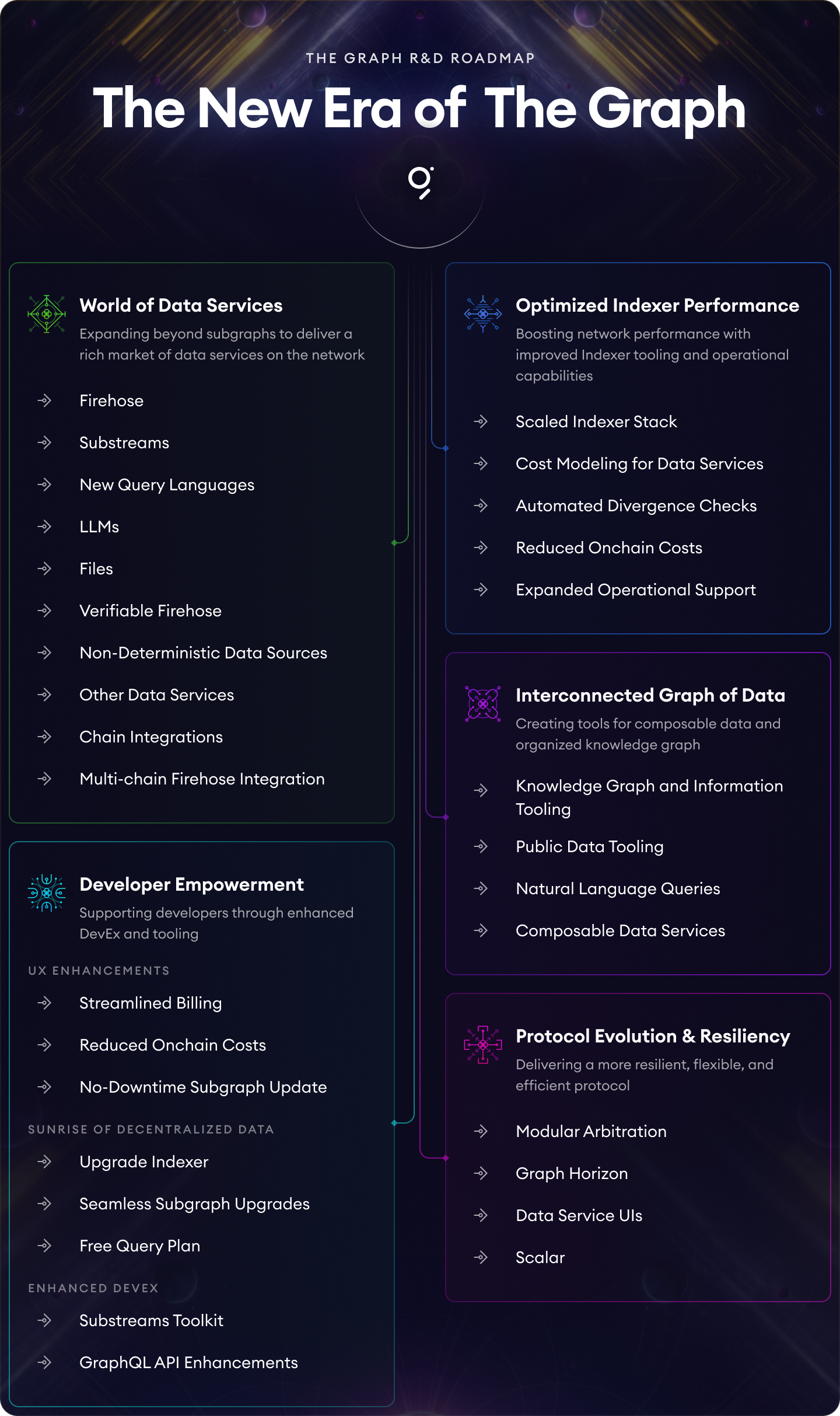 Roadmap Overview
The New Era of The Graph is the beginning of a new chapter where The Graph Network serves all data needs and different users, supporting a flourishing universe of data. The new era will culminate with The Graph serving web3's growing use cases including verifiable data, new query languages and support for LLMs, while better serving builders, improving the efficiency of the protocol, and building out a knowledge graph.
The roadmap is organized into five core objectives, each with supporting milestones to drive R&D and the ecosystem's growth for years to come.
Here is a brief overview and description of each objective:
World of Data Services: Expanding beyond subgraphs to deliver a rich market of data services on the network.
Developer Empowerment: Supporting developers through enhanced DevEx and tooling.
Optimized Indexer Performance: Boosting network performance through improved Indexer tooling and operational capabilities.
Interconnected Graph of Data: Creating tools for composable data and organized knowledge graph.
Protocol Evolution & Resiliency: Delivering improvements for a more resilient, flexible, and efficient protocol.
The roadmap will be used to provide users with transparency about future services, ensure continuous alignment among core contributors, and establish important milestones for the community to follow. Many milestones like migration to Arbitrum, new chains, and new query languages are already in-flight, while others shared today will be the focus over the next several months. You can follow progress on roadmap milestones here.
World of Data Services
Result: Expanding beyond subgraphs to deliver a rich market of data services on the network

In the rapidly evolving landscape of web3, data is the lifeblood, enabling dynamic use cases that propel the entire industry forward. Subgraphs have become the standard for accessing blockchain data to build dapps, but in order to support web3's growing appetite for new ways to consume data, The Graph must also expand its data services.
World of Data Services provides a holistic approach to growing beyond subgraphs and GraphQL:
New query languages will open the door for analytics use cases, so data scientists and analytics consumers can query The Graph.

Complete integration of

Firehose

and

Substreams

, both pivotal data services that ensure faster data flow and modular data access.
Verifiable Firehose to provide a potential solution for

EIP-4444

and retrieving historical Ethereum data.

Introducing new non-deterministic data sources.

Enabling

fine-tuned LLMs

to generate queries that Indexers can serve as GraphQL or other query languages.

A dynamic file sharing marketplace for Indexers.

Continuous new chain support through the

Chain Integration Process

.
The Graph community envisions a diverse and robust market of data services that are natively accessible via the network, and the permissionless ability for developers to add any new data services. As the market for new ways to consume data grows, so will the opportunities for Indexers and developers to specialize and gain access to a diverse set of data services. The World of Data Services sets the stage for new users like data scientists to tap into a universe of information with expanded convenience and accessibility.
Developer Empowerment
Result: Supporting developers through enhanced DevEx and tooling

The Graph has continuously evolved UX and DevEx based on user feedback and changing needs. Developers are the architects of web3, creating the experiences and applications that will shape the decentralized internet.
Echoing the commitment to developer-centric evolution, several milestones under the Developer Empowerment objective are set to revolutionize the developer experience:
Several UX enhancements are in-flight, including streamlined billing, clear pricing models, and reduced gas fees thanks to the protocol's ongoing

move to Arbitrum

.
No downtime when upgrading subgraphs to the network with the

Sunrise of Decentralized Data

, which will ensure all hosted service subgraphs transition seamlessly to network.

Offering support for all chains on the network, which are currently supported on the hosted service.

Improved

GraphQL API

and advanced testing and build-time validation features, which will be integrated into the Graph CLI.
Augmented tooling for

Substreams

, which will include a dedicated GUI and Codegen capabilities.
These initiatives will not only refine current workflows, but also boost performance and efficiency for developers working with subgraphs. Together, these milestones mark a future where The Graph evolves in tandem with users' expectations and needs – ensuring access to the world's data is supported by an intuitive, robust, and simple user experience.
Optimized Indexer Performance
Result: Boosting network performance with improved Indexer tooling and operational capabilities

The efficiency and reliability of The Graph Network are deeply intertwined with the effectiveness of the Indexer community. With the objective of Optimized Indexer Performance, The Graph will bolster network performance by enhancing Indexer operational capabilities and providing them with comprehensive tooling.
The milestones within Optimized Indexer Performance are crafted to amplify the full operational potential of Indexers, coupled with more support resources. Improvements include:
A

scaled Indexer stack

, backed by Kubernetes, which is tailored for large-scale operations.

The development of new cost modeling frameworks tailored for new data services, targeting Indexers and future data providers.

Automated divergence checks and streamlined detection, leveraging new tooling such as

Graphix

.

Reduced onchain gas fees for developers and Indexers via Arbitrum to enhance operational efficiency.
Collectively, these initiatives enable a future where Indexers are more empowered and operationally efficient, enabling them to support each new data service with the tools needed to scale their infrastructure.
Interconnected Graph of Data
Result: Creating tools for composable data and organized knowledge graph

Data can come from anywhere, but how can we know what to trust? Communities need tools to organize and get to consensus on knowledge and information. With better representation of knowledge, that is linked together, we can grow our body of shared facts – a foundation for a healthier society. The Graph's vision for an Interconnected Graph of Data is a testament to this, moving from data to information to a human-curated knowledge graph!
This objective will create tools for a composable and organized data graph by:
Implementing improved mechanisms for curation and governance of data on The Graph.

Enabling network support for Natural Language Processing through LLMs.

Providing unified access to all data services through composability.

Enacting tooling to create knowledge graphs.
The Interconnected Graph of Data outlines how The Graph Network will enable a truly decentralized and global knowledge graph to exist, which is not possible with siloed data services or data service providers. These milestones paint a picture of a future where The Graph serves as the nexus of web3 data, connecting various dots to provide a seamless, integrated, and comprehensive data graph.
Protocol Evolution & Resiliency
Result: Delivering improvements for a more resilient, flexible, and efficient protocol.

Continuously evolving the protocol to be resilient, flexible, and cost-effective is paramount for developers building on The Graph. The Protocol Evolution & Resiliency objective underscores a commitment to decentralization, permissionless innovation, greater economic efficiency, and minimized implicit trust assumptions through:
A new payments system for network participants with a

Timeline Aggregation Protocol (TAP)

called Scalar, greatly reducing the trust assumptions between gateways and Indexers' payments.

Introducing Graph Horizon, evolving the protocol to make it more permissionless, simpler, and cost-effective, including improvements to delegation.

Supporting

arbitration

for new data services and chains in a modular way.

Enabling dedicated user interfaces for new data services (eg. developers and data scientists).
This objective not only ensures a robust foundation for current applications but also paves the way for a future where web3 data infrastructure is more durable, adaptable, affordable, and reliable.
How Can You Get Involved?

Becoming a part of this groundbreaking journey has never been easier. Whether you're a developer, an aspiring Indexer, or a non-technical web3 enthusiast, there are multiple avenues to engage and participate in  The Graph community.
Start by exploring the various network roles within The Graph and determine if you're interested in becoming a Delegator, subgraph developer, or Indexer.
You can also connect with like-minded individuals around the world by joining the official Telegram channel, Discord, and The Graph Forum, where discussions about the protocol's future take place.
Lastly, you can also apply to be a Graph Advocate, join BuildersDAO, subscribe to the community newsletter, or attend one of the many community events. Embrace the New Era, contribute to the evolution of web3, and help shape the future with The Graph.
Join The Graph as we revolutionize the decentralized data landscape!
About The Graph
The Graph is the indexing and query layer of web3. Developers build and publish open APIs, called subgraphs, that applications can query using GraphQL. The Graph currently supports indexing data from over 40 different networks including Ethereum, NEAR, Arbitrum, Optimism, ZkSync, Polygon, Avalanche, Celo, Fantom, Moonbeam, IPFS, Cosmos Hub and PoA with more networks coming soon. To date, 88,900+ subgraphs have been deployed on the hosted service. Tens of thousands of developers use The Graph for applications such as Uniswap, Synthetix, KnownOrigin, Art Blocks, Gnosis, Balancer, Livepeer, DAOstack, Audius, Decentraland, and many others.
The Graph Network's self service experience for developers launched in July 2021; since then over 800+ subgraphs have upgraded to the Network, with 200+ Indexers serving subgraph queries, 11,300+ Delegators, and 2,500+ Curators to date. More than 5.6+ million GRT has been signaled to date.
If you are a developer building an application or web3 application, you can use subgraphs for indexing and querying data from blockchains. The Graph allows applications to efficiently and performantly present data in a UI and allows other developers to use your subgraph too! You can deploy a subgraph to the network using the newly launched Subgraph Studio or query existing subgraphs that are in the Graph Explorer. The Graph would love to welcome you to be Indexers, Curators and/or Delegators on The Graph's mainnet. Join The Graph community by introducing yourself in The Graph Discord for technical discussions, join The Graph's Telegram chat, and follow The Graph on Twitter, LinkedIn, Instagram, Facebook, Reddit, and Medium! The Graph's developers and members of the community are always eager to chat with you, and The Graph ecosystem has a growing community of developers who support each other.
The Graph Foundation oversees The Graph Network. The Graph Foundation is overseen by the Technical Council. Edge & Node, StreamingFast, Semiotic Labs, The Guild, Messari, GraphOps, Pinax and Geo are eight of the many organizations within The Graph ecosystem.
Category

Author

The Graph Foundation

Published

November 7, 2023

Updated

November 8, 2023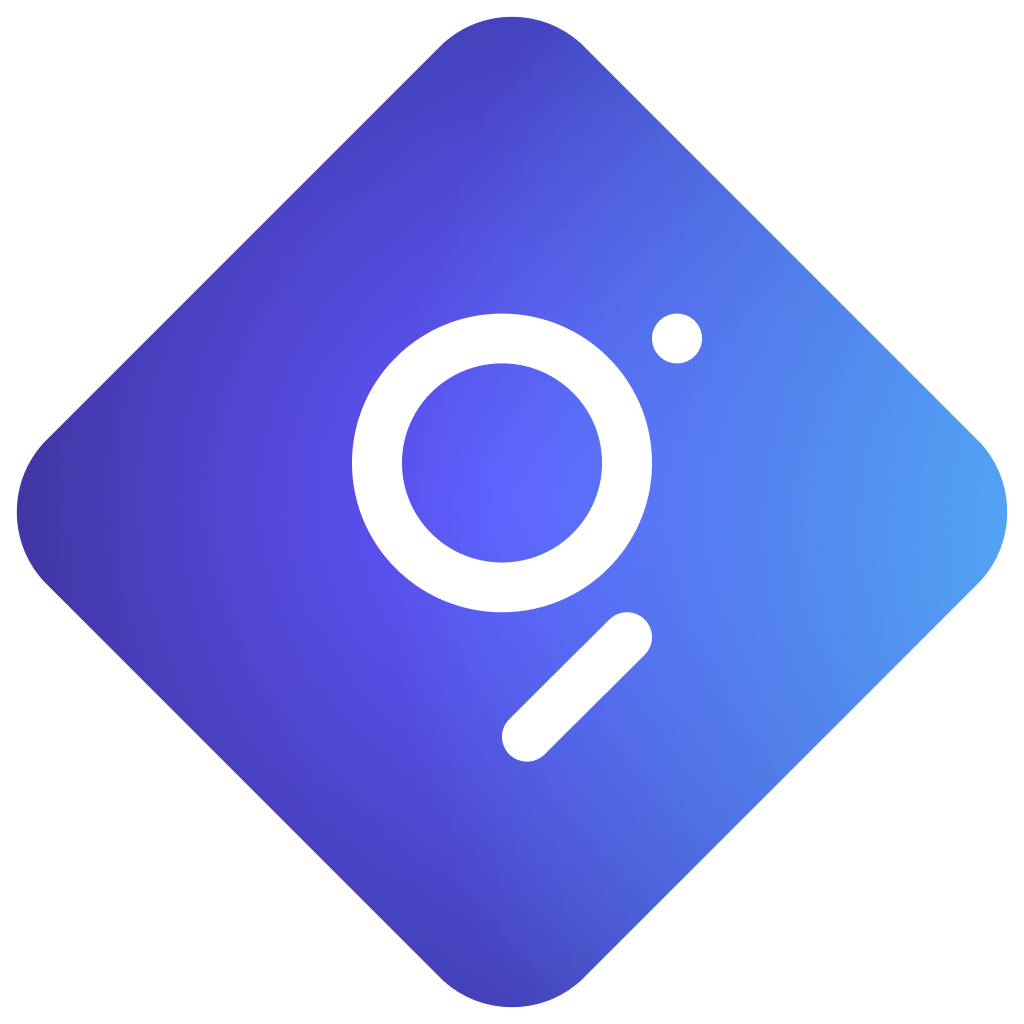 The Graph Foundation